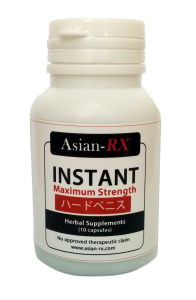 Asian-RX Instant!
INSTANT PENIS ENLARGEMENT | ROCK HARD ERECTION
This formula delivers on demand and lasts up to 24 hours. Formula works in 30 minutes from the very first time to support sexual arousal, libido and sexual enhancement and temporary penis enlargement.
Potent ingredients include eight herb compounds. It works as a libido enhancer that boosts testosterone while reducing estrogen.
Asian-RX Instant raises testosterone levels, boosting erectile function and improving energy levels. Asian-RX Instant is a Sexual Stimulant for Men  alternative uses a team of herbals to target the three areas that increase and support sexual enhancement, namely increasing blood flow to erectile tissues, sustaining that blood flow and enhancing libido and arousal.
Get maximum sexual stamina and pleasure from this hardcore formula.
Asian-RX Instant works for almost 24 hours and gives you 80% erection and 20% temporary penis enlargement.
(for permanent penis enlargement please try our Asian-RX Natural Penis Enlargement Program)